Beet Hummus with Baby Carrots
Prep time: 5 minutes          Total Time: 5 minutes-1 hour*          Servings: 9 (serving size= 3-4 tablespoons) 
*Recipe time is dependent on if you are using store bought beets or preparing at home.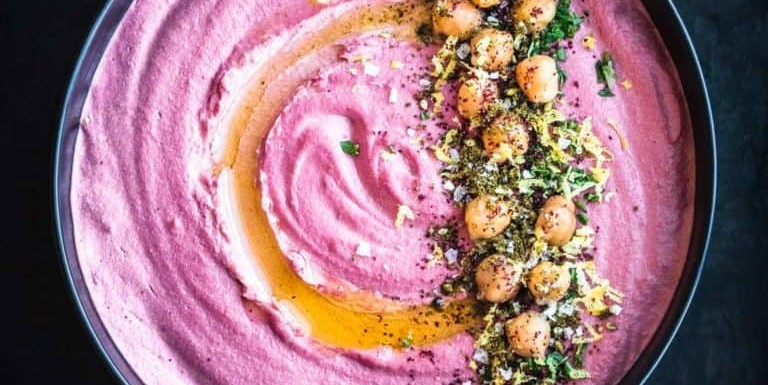 Ingredients:
1 (15- oz) can low sodium chickpeas drained and rinsed
½ cup peeled and chopped steamed or roasted beets** (follow from recipe below, or use prepared steamed vacuum sealed beets)
2 tablespoons tahini (sesame seed paste)
2 tablespoons extra-virgin olive oil
Juice of half a lemon
1/2 teaspoon salt
1/4 teaspoon pepper
1 cup of baby carrots for each snack serving
How to make it:
To make the hummus, place the first seven ingredients into food processor and blend to desired consistency, scraping down the sides as needed
Serve with baby carrots, or vegetables of your choice- e.g.: sliced peppers, baby carrots, celery, radishes.
**To make roasted beets: Preheat oven to 400°F. Wrap 1 beet in foil and seal tightly; bake for 45 minutes or until tender when pierced with a knife. Cool. Use a paper towel to rub skins off beets.