Forbidden Rice Tempeh and Vegetable Power Bowls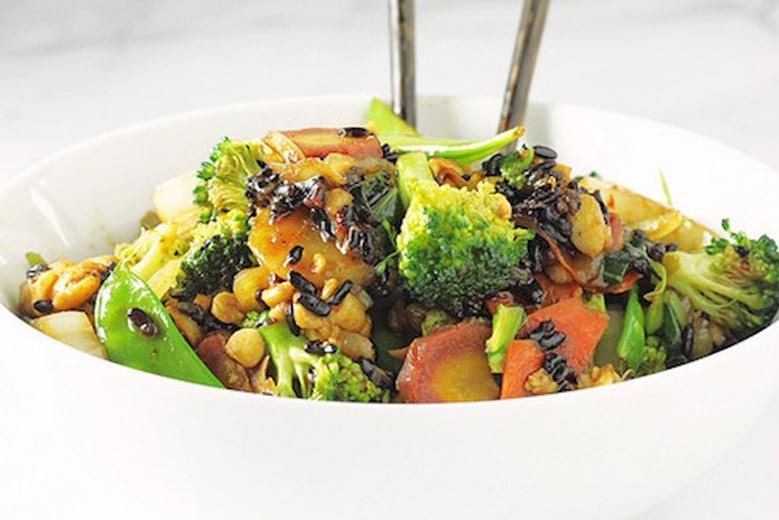 Active Time: 20 Mins      Total Time: 40-50 Mins         Yield: Serves 4 
Ingredients:
4 tablespoons hoisin sauce
1 tablespoon rice vinegar
1 tablespoon Asian chili garlic sauce more or less to taste
2 tablespoons water
1 8-ounce package organic tempeh
1 tablespoon olive oil
2 tablespoons toasted sesame oil
1½ cups broccoli, trimmed and cut into florets
¾ cup snap peas, ends trimmed
½ large onion, sliced thin
1½ cup bok choy leaves and stems, sliced
2 large carrots, cut into very thin rounds
¾ cup cooked forbidden rice
Tamari or soy sauce optional
How to Make it:
Mix together the hoisin sauce, rice vinegar, chili garlic sauce and water, and set aside.
Place the tempeh in a small sauce pan, with enough water to just about cover. Steam the tempeh for about 3 minutes. Drain.
Heat the olive and sesame oils in a sauté pan over medium-high heat.
Add the broccoli, snap peas, onion, bok choy and carrots to the pan and sauté for about 8 to 10 minutes until vegetables are tender.
Crumble the steamed tempeh into the vegetable mixture.
Add the sauce mixture to the pan, and reduce the heat to low.
Add the rice, and stir to combine everything and heat through for about 3 to 5 minutes. Add more water if the sauce seems too thick.
Taste and season with tamari or soy sauce if desired.
Source: Danahy, Anne. (2019, January 7). Forbidden Rice and Vegetable Power Bowls. Retrieved from https://foodandnutrition.org/blogs/stone-soup/forbidden-rice-vegetable-power-bowls/.