Green Bean Potato Salad with Lemon-Soy Vinaigrette
Active Time: 20 Mins      Total Time: 1 Hour 15 Mins         Yield: Serves 8 (serving size: 1 cup)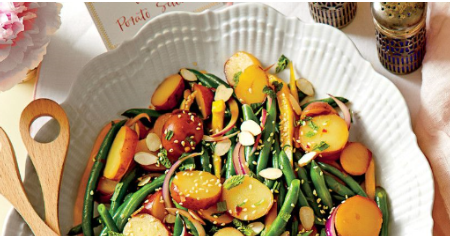 Ingredients:
Salad
2 (12-oz.) pkg. fresh green beans
3/4 teaspoon table salt, divided
1 pound petite red potatoes
1 large yellow bell pepper, cut into thin strips
1/3 cup thinly sliced red onion
3 tablespoons chopped fresh mint
2 tablespoons toasted sliced almonds
1 tablespoon toasted sesame seeds
Lemon Soy Vinaigrette 
1/4 teaspoon of honey
1/4 cup fresh lemon juice
2 tablespoons soy sauce
2 teaspoons sesame oil
1/2 teaspoon red pepper flakes
How to Make it:
In a large sauce pan, bring water (with 1/2 teaspoon salt) to a boil.  Add green beans and cook until tender-crisp, 3 to 4 minutes; drain. Plunge into ice water to stop cooking process; drain and pat dry with paper towels.
Bring potatoes and cold water to cover to a boil in large saucepan over medium-high; reduce heat to medium-low, and simmer until just tender, about 20 minutes total. Drain and let cool 30 minutes. Slice potatoes into 1/4- to 1/2-inch rounds.
Gently toss together green beans, potatoes, bell pepper, red onions, and remaining 1/4 teaspoon salt in a large bowl. Add Lemon-Soy Vinaigrette, and gently toss to combine. Transfer mixture to a serving platter, and top with mint, almonds, and sesame seeds. Serve room temperature or chilled.
To Make the Lemon Soy Vinaigrette 
Whisk together honey, lemon juice, soy sauce, sesame oil, and red pepper flakes in a small bowl until combined.
Adapted from: (2016, March). Green Bean Potato Salad with Lemon Vinaigrette. Retrieved from: https://www.myrecipes.com/recipe/green-bean-potato-salad-lemon-soy-vinaigrette