Steppin' Through History: Columbia University Step Challenge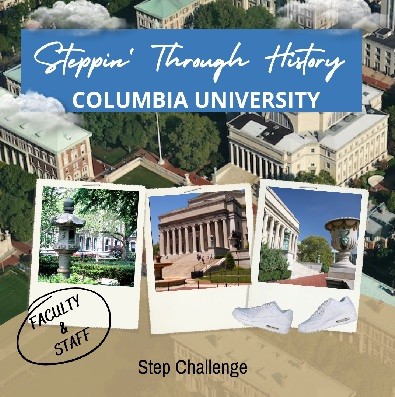 Step up with your colleagues this fall with the Steppin' Through History: Columbia University Step Challenge. You can find all challenge details below. 
Monday, October 24 – Friday, November 11
Participants will aim for 7,000 steps daily to contribute to Columbia's faculty and staff's journey through Columbia's milestones in history.
CHALLENGE MVP: the participant with the highest total step count by the challenge end
BEST CHEERLEADERS: 3 participants who have shown consistent encouragement in the chat by rooting for others and keeping the team energized
TOP STEPPER RAFFLE: The 20 participants with the highest total step will be entered in a raffle (3 prize winners)
STEP CONTRIBUTOR RAFFLE: all participants who have contributed to the total step count will be entered into a raffle to win healthy prizes (2 prize winners)
*Participants from CUIMC will be eligible for additional prizes, including highest stepper from each school. Click here for more information.
You can create your MoveSpring account on a computer or by downloading the MoveSpring app to your mobile phone. When prompted, use the organization code CUWELL.
Click this JOIN link
Follow the steps to create your MoveSpring account & connect a device. You'll automatically be added to the challenge!
*Already have an account? Click this JOIN link and you'll be added to the challenge. 
When you sign up for MoveSpring, you connect a wearable device, smartphone, or selected manual entry to track your steps. Here is how to make sure your steps and all other activities count:
Remember to sync your data from your device to the app to update your total steps each day. Learn more about syncing here as it varies by the type of device you have.
Count other physical activity (e.g.: yoga or biking) and wheelchair distance towards your step goal by using the activity converter on MoveSpring.
Convert wheelchair distance to steps by using this conversion chart and manually adding them on the MoveSpring app.
*See a list of connectable devices here.
Stay in touch with your colleagues throughout the challenge by using the chat function on the MoveSpring app. Here, you can share a stepping selfie, motivational thought, and more. You can also "like" and comment on posts in the app!
Check out the MoveSpring Help Center, how-to videos, or contact their support team. To contact MoveSpring Support in the mobile app, tap the menu bars at the top left corner of the dashboard and then tap the green Message support button at the bottom of the utility panel. On the web, click the blue chat icon at the bottom right of the screen. You can also reach the MoveSpring Support team at: [email protected]